Kazakhstan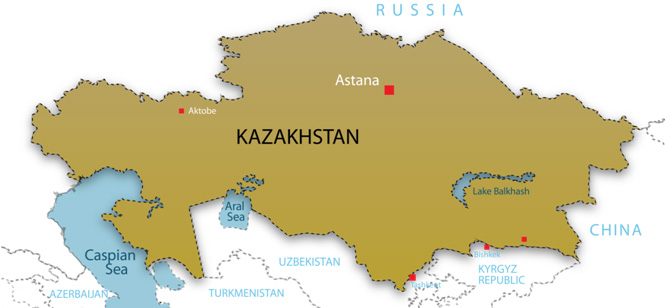 Kazakhstan Economy
Kazakhstan is bordered by Russia, China, Kyrgyzstan, Uzbekistan, Turkmenistan and the Caspian Sea. It is the largest nation and economy in Central Asia and the seventh largest nation by area in the world. The population of approximately 16 million is highly literate and well educated.
Kazakhstan is a stable democratic country and is considered a "model transition economy". Since gaining its independence in 1991 after the break up of the Soviet Union, Kazakhstan has experienced rapid economic growth, mostly attributed to its natural resources. Kazakhstan enjoyed double-digit growth in 2000-01 - 8% or more per year in 2002-07 - thanks largely to its booming energy sector, but also to economic reform, good harvests, and foreign investment. The economic expansion is due to increased production of oil, minerals and other commodities, supported by high oil prices and rising foreign investments.
The country is headed by Nursultan Nazarbayev who has been President since 1991, being re-elected most recently in 2011. Under Nazarbayev's presidency, Kazakhstan has made significant progress towards developing a free market economy. The country has a friendly foreign investment climate and is a member of the United Nations, the World Customs Organisation the Organisation for Security and Cooperation in Europe among others. Kazakhstan is also an observer at the World Trade Organisation and an active participant in the North Atlantic Treaty Organisation's (NATO) Partnership for Peace program.
In September 2011 Kazakhstan signed a WTO bilateral market access agreement with the USA, an important step towards the accession of Kazakhstan to the WTO.
The country has good infrastructure with a well developed national grid and network of all year roads, railways and airports. It possesses enormous fossil fuel reserves as well as minerals and metals. It also has considerable agricultural potential with its vast steppe lands accommodating both livestock and grain production, as well as developed space infrastructure, which took over all launches to the International Space Station from the Space Shuttle. Kazakhstan's industrial sector was built on the extraction and processing of these natural resources and also on a relatively large machine building sector specialising in construction equipment, tractors, agricultural machinery, and some military items.
The laws of Kazakhstan have established a single investment regime for both domestic and foreign investors. The country guarantees stability of contracts where investors enter into contracts with Kazakh State agencies, with the exception of a change of law intended for national or ecological security, public health or morality, or if it affects the procedure or conditions of import, production and/or sales of excisable goods.
Kazakhstan's bond rating has recently been upgraded by Standard & Poor to BBB.